What is Welcome?
Welcome is a virtual and hybrid event platform that lets users create virtual conferences, webinars and internal meeting experiences that feel like Apple keynotes. As the go-to virtual events software vendor for enterprise companies such as Oracle and Okta, they needed to scale their cloud-based software with stability and security in mind.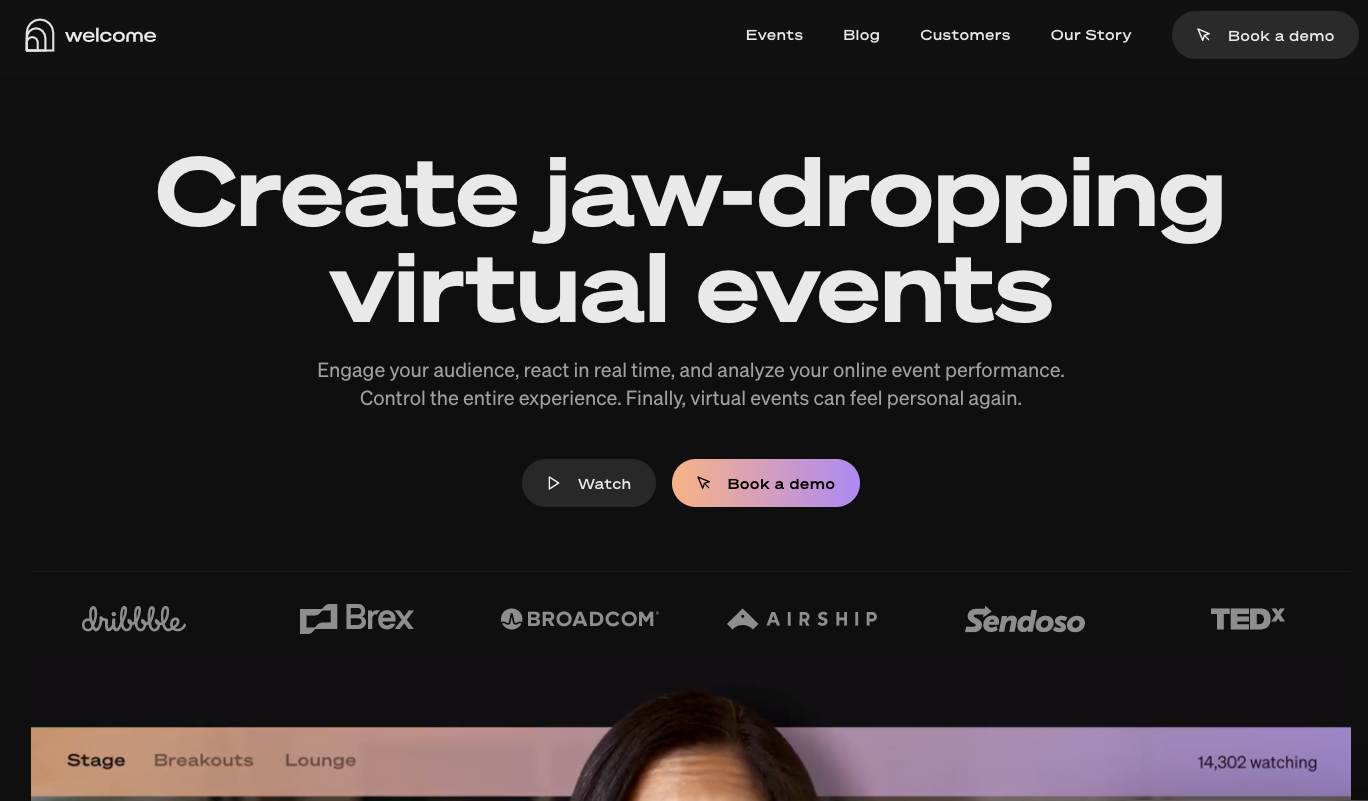 We sat down with Tiger, the Chief Technology Officer (CTO) of Welcome to hear more about his experience.
Watch the full video testimonial below:
The Challenge:
When hosting live events, Tiger says, "there are no second chances". Reliability is extremely important to Welcome, as even a brief delay would derail the entire user experience.
The Process:
webapp.io's technical customer success team and Welcome's engineering team worked collaboratively to optimize the virtual event provider's platform. At Welcome, webapp.io is used by individuals in a number of roles, including:
QA (Quality Assurance) team members manually verify changes by looking at the set of test steps in each pull request and validating these steps.
Developers access ephemeral environments (what is an ephemeral environment?) at the same time to test functionality, which can be necessary given the nature of virtual event software.
Designers can easily validate both the UI and UX by following a developer-provided link to a preview environment.
Tech Stack
Before webapp.io:
Full List of Challenges:
Stability of product was and continues to be a top priority, so it was important to have reliable CI and the ability to test changes quickly.
Designers wanted to be able to validate UI changes, but they would have to get a local environment running or manually deploy to a staging environment, which can be time consuming and complicated.
Welcome wanted infrastructure that would scale with them, allowing the team to continue growing quickly.
After using webapp.io:
CI provider: CircleCI and webapp.io
Full List of Solutions:
The collaboration between the two companies helps Welcome provide a stable, reliable experience to its users by making CI quick and comprehensive.
With webapp.io, it's easy to generate and share links with two or more people to access a dynamic demo environment at one time (in order to validate UI and UX).
With established infrastructure, welcome can continue rapidly scaling. Interested in joining? Check out their job postings here.
Why did they choose webapp.io?
From the perspective of the CTO and Co-Founder of Welcome:
"We've always wanted to test more and have better quality control. Designers also wanted to be able to validate UI changes and components. But before webapp.io, these things just didn't happen as much because there were so many hoops to jump through… The intent was there, but the implementation just fell way short of the convenience bar that would actually allow us to act out some of these parts of our process."
- Tiger S., Chief Technology Officer
Want to supercharge your engineering team too? Try webapp.io for free here