We've all had days where we've found ourselves in meeting after meeting, and might've ended up thinking, "Could that have been an email?" It's important to think about how we can use our time (and the time of our colleagues) as effectively as possible. One way to do that is by making sure to use the appropriate mode of communication when collaborating with others. Video calls, a form of synchronous communication, can make us feel more present and connected, but can also be time-consuming. In this post we'll define synchronous and asynchronous communication, outline some examples of both, compare them, and discuss best practices for using asynchronous communication.
Asynchronous communication definition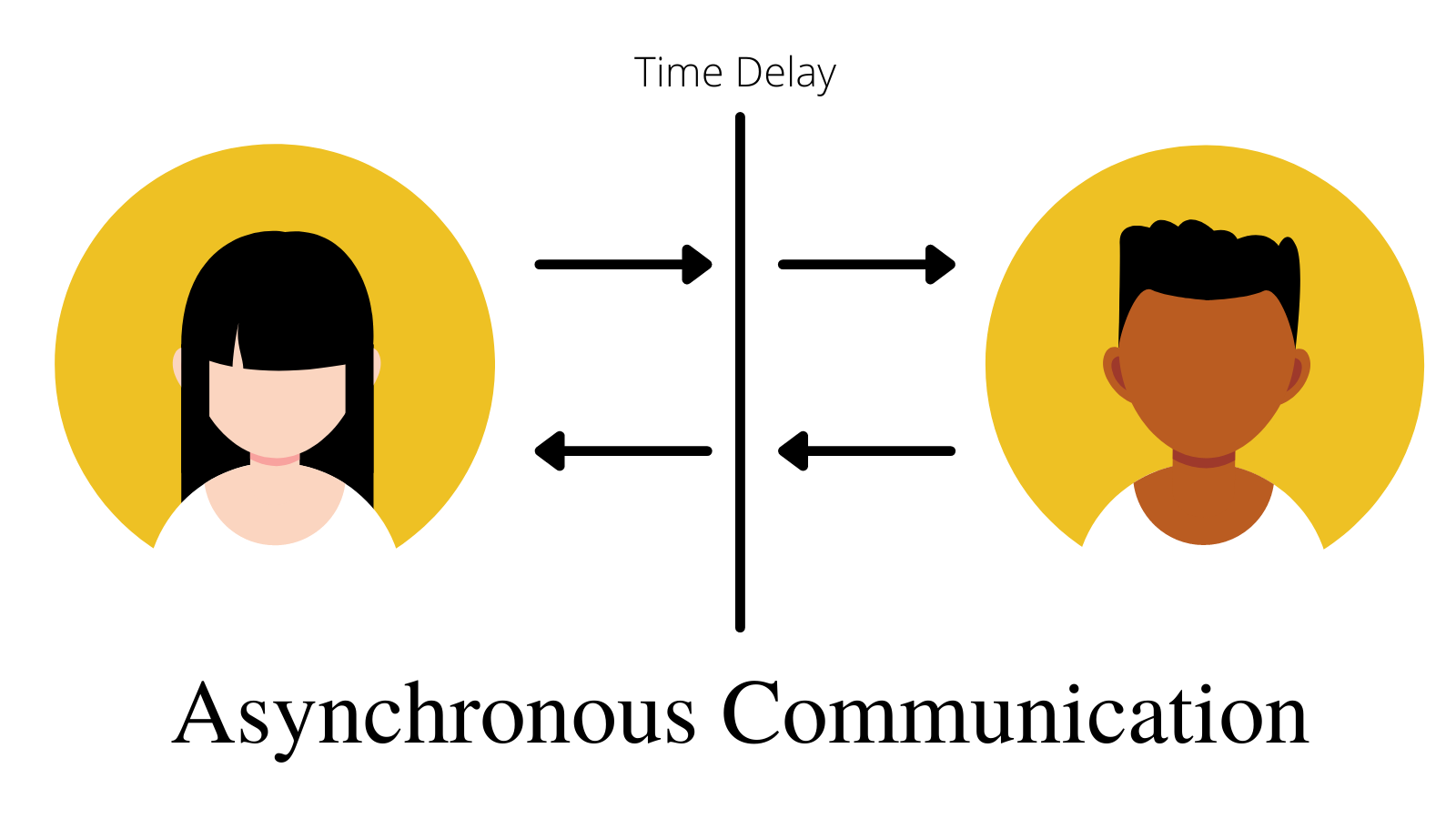 Asynchronous communication is when one party provides information to another person (or multiple people) that does not happen in real time. In this case, the two parties don't need to operate in synchrony—they can give and receive information at the rate that they feel comfortable with, on their own time.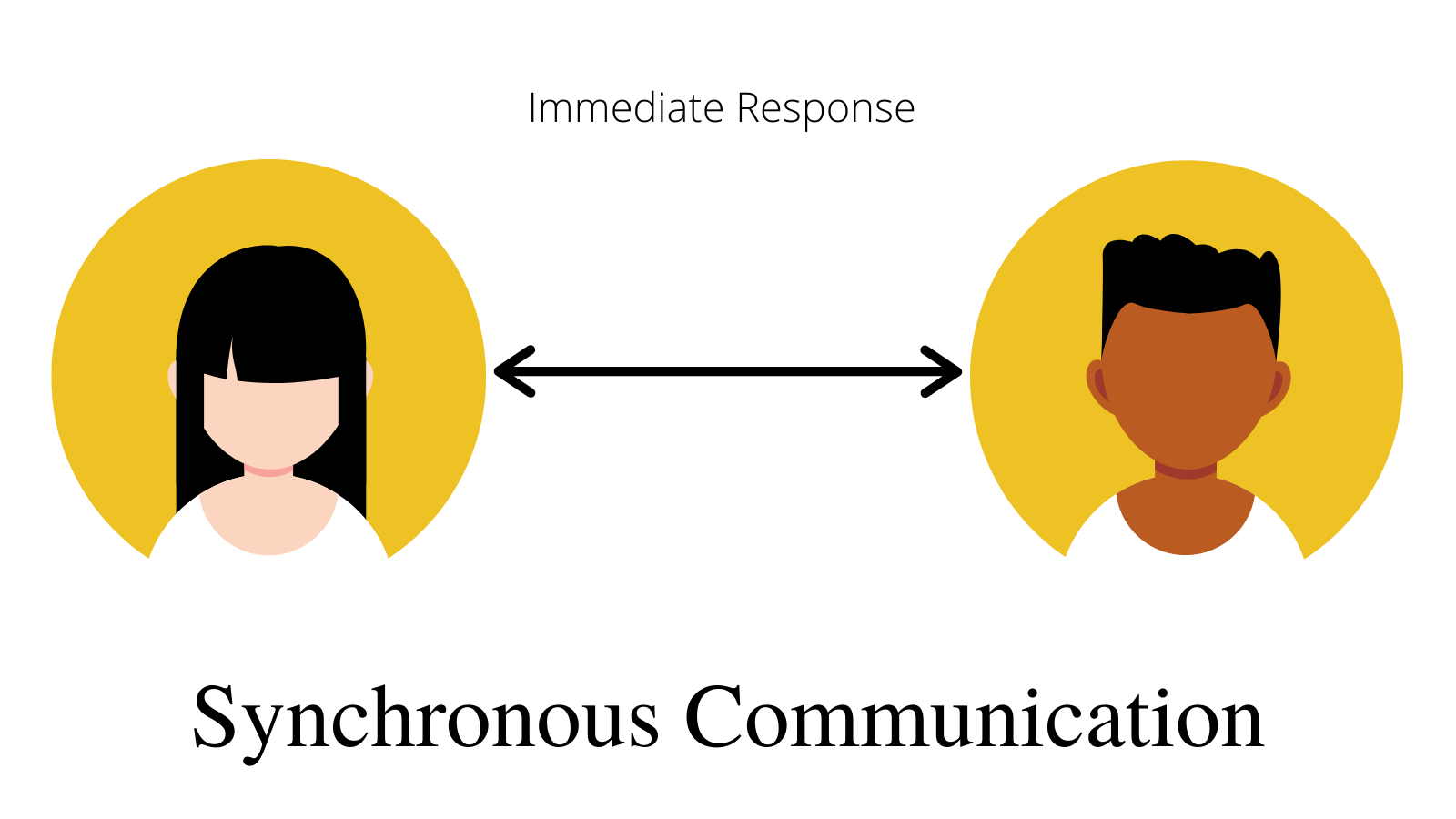 Synchronous communication is real-time communication, where two or more people pass a steady stream of information to one another. As remote work becomes more widespread, video conferencing has become ubiquitous and remains an excellent way to share ideas with others. It is important, however, that we think think carefully about how to make the best use out of our time and the time of our colleagues, as synchronous communication can be time-consuming.
What are some examples of asynchronous communication?
Chances are, you already use forms of async communication. This year marks the 50th anniversary of the most common type: email. With around 4 billion users (and a projected growth of 4% a year, according to The Radicati Group), email has come a long way and seems to be here to stay.
In addition to email messaging, asynchronous communication can take the form of messaging applications such as Discord, Slack, Microsoft Teams, or Whatsapp. An added benefit of using messaging applications is the ability to share information among a whole team easily, and silence channels as the need arises. This is in contrast to email messaging, where threads can get complex, and filtering emails can be difficult, leading to cluttered inboxes for coworkers who want to stay in the loop.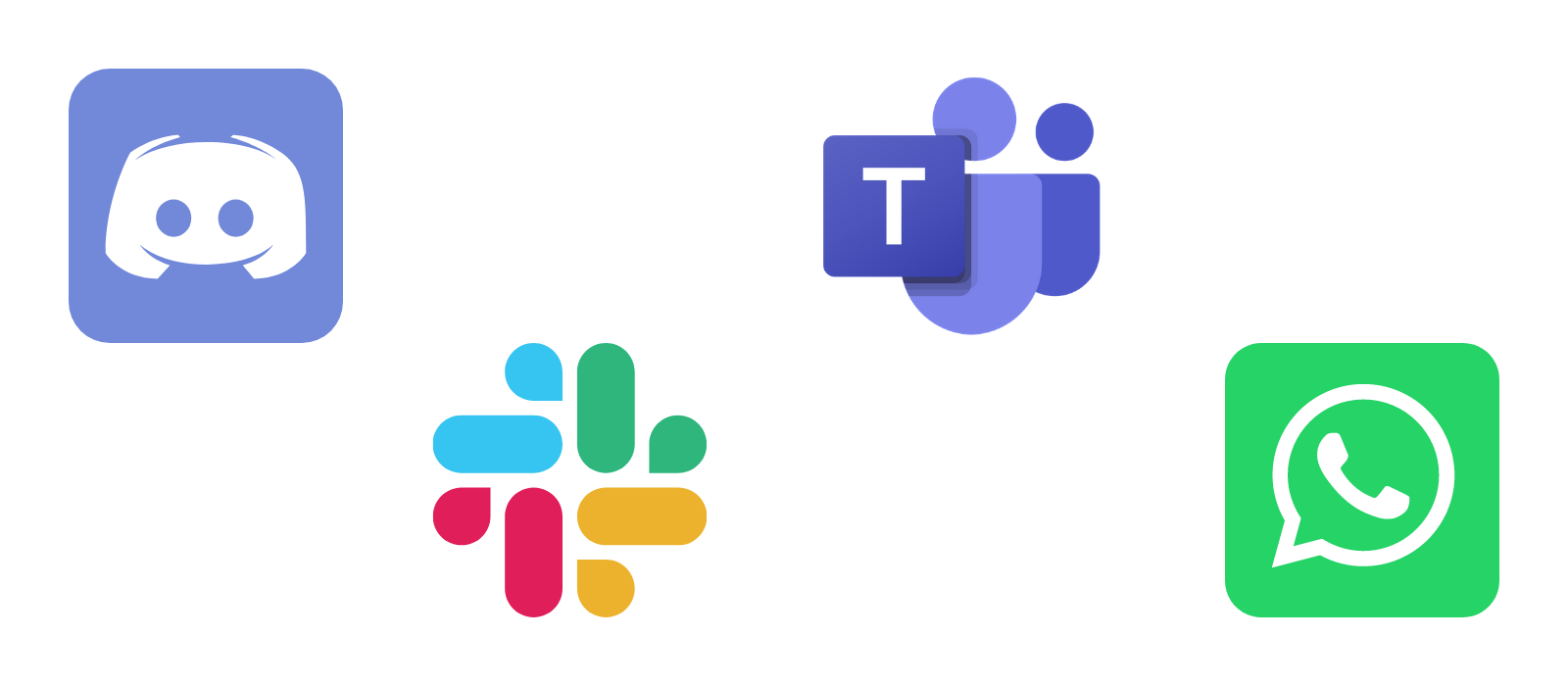 Want to make sure your message is very clear? If you're looking to pass a more thorough message to your teammates or want to explain some of your work while screen-sharing, you can send a video message using software such as Vidyard or Loom and include a voice over and video of yourself.
Producing and editing work with teammates can be a breeze using technology like Google Drive, which has an entire suite of tools, allowing users to make and share documents, slideshows, and spreadsheets that are saved to the cloud. Other excellent examples of organizational and project management tools are Notion, Trello, and Airtable, which all facilitate workplace communication and allow communication out of sync.
Pros and cons of synchronous communication
Synchronous communication techniques can be hugely beneficial, allowing us to feel connected to team members and more physically present than we would otherwise be while operating in a distributed team. In addition, effective real-time communication allows team members to share information and receive immediate feedback. This back-and-forth of information can be extremely effective, but we walk a fine line.
Over the past year many of us have experienced "Zoom Fatigue", a term that describes the exhaustion felt after a day of video conferencing. In a recent paper published in Technology, Mind, and Behavior, Jeremy Bailenson theorized this to be caused by prolonged close-up viewing of faces, high cognitive load due to non-verbal cues, viewing oneself often and for long periods of time, and being stationary all day. However, meeting fatigue predates the COVID-19 pandemic: in a 2005 study by Alexandra Luong and Steven Rogelberg, the researchers found that an increased number of meetings and increased time spent in meetings was associated with feelings of an increased level of workload and fatigue. This suggests that meetings should be planned thoughtfully. The following questions can be considered to be as thoughtful of your time as possible:
Does this meeting need to happen?
Do I need to be present for this meeting?
How will we keep this meeting as concise as possible?
What information must be covered in this meeting?
Pros and cons of asynchronous communication
There are several benefits of asynchronous communication. Allowing employees to communicate at their own pace (often across different time zones) is excellent practice for a remote team, and remote work is here to stay. According to a PwC survey of 699 CEOs across 67 countries conducted in 2020 to evaluate the trends emerging from the COVID-19 pandemic, 78% of those surveyed said that remote collaboration will continue into the future. Asynchronous communication also allows people to do deep work, free of distractions, and address new information when they are finished with their current task. If they are easily distracted, they can even turn off email and messaging notifications to be as efficient as possible.
Although it can be an efficient use of time, asynchronous communication has it's downsides too. Often, not scheduling face-to-face meetings and opting to connect via email or Slack messages can lead to spillover beyond working hours. Many people continue to work past traditional working hours of 9-5, with mobile phones making it easy to always stay plugged into work. In addition, ideas can be miscommunicated when not connecting in real time, so it is important to be cautious. In the next section best practices to avoid miscommunication when using asynchronous communication will be addressed.
Putting asynchronous communication in practice
It's not enough for a team to use good tools, teams need to use good tools well. In order for adoption to take place, there are some things that both leadership and fellow team members can do to help:
Make people familiar with the tools: people won't be comfortable using what they don't understand. Make sure there is a training period when using new tools, or send a video message detailing new information so that your colleagues can refer to it as need be. Implement collaboration tools into new employees' onboarding and training processes, so they start using it right from the get-go.
Create the culture: make a culture in your workplace where 'it's okay to not meet right now'. People in leadership roles can lead by example, sharing information via asynchronous channels and making sure that colleagues feel like they have a safe space to communicate. Promoting both work-related and conversational discourse (in the appropriate areas) can encourage people to share at their own pace.
State ideas clearly: take care to make your ideas easy to understand. If addressing a group wider than your immediate team, make sure that they would understand your lingo, and if you think there's any possibility that they might not, explain it! Try to make your ideas as simple and easy to digest as possible.
Use the appropriate medium: if you're passing along a quick one-liner, it'll likely be no problem on whatever platform you prefer. If you need to explain how to use new software, however, it's likely more appropriate to send a screen recording and video (using software like Loom). This would allow you to walk through the usage of the new software and provide a voiceover, which is much easier for recipients to digest than a large block of text.
Make sure there is a clear call to action: make sure that your colleagues know why you're passing along information. If you're looking for feedback on something, ask, and make it very clear how and when you want to receive that feedback.
Use sensitive language: it's easy to misunderstand the intention behind short messages—perhaps you can think back to the last time a not-so-tech-savvy relative responded "K" to a long and detailed message. Short, terse messages can be interpreted as angry or rude. Take the time to thank people, be enthusiastic, and don't be afraid to send an emoji every now and then! 😊
Manage expectations: the benefit to using asynchronous communication is that recipients can access information on their own time. This is not useful if you expect an immediate response. Although your message may feel urgent and important to you, that doesn't mean that it feels the same way to your teammate. Give recipients as much time as possible to respond, whenever possible.
Predictions for the future of work
The last year has drastically changed many things that we believed absolute, and how we work is one of them. Although we don't know for sure where this may leave us in a post-pandemic world, the previously mentioned PwC survey is just one resource that seeks to answer these questions. A 2020 paper by the National Bureau of Economic Research evaluated data from over three million international users and found some interesting trends post-lockdown: increased average email communication, an increased average number of meetings per person, and an increased average number of people attending each meeting, but overall decreased average meeting length—so much so that the total amount of time that employees spent in meetings went down.
It is likely that going forward, there will be a shift to more asynchronous modes of communication as remote collaboration continues and distributed teams flourish. Of course, this takes effort to create a culture of asynchronous communication. Will your workplace join in?
Feature image by Chris Montgomery on Unsplash.